Day in the Life with Admin Support
by Mark Varty
March 11, 2022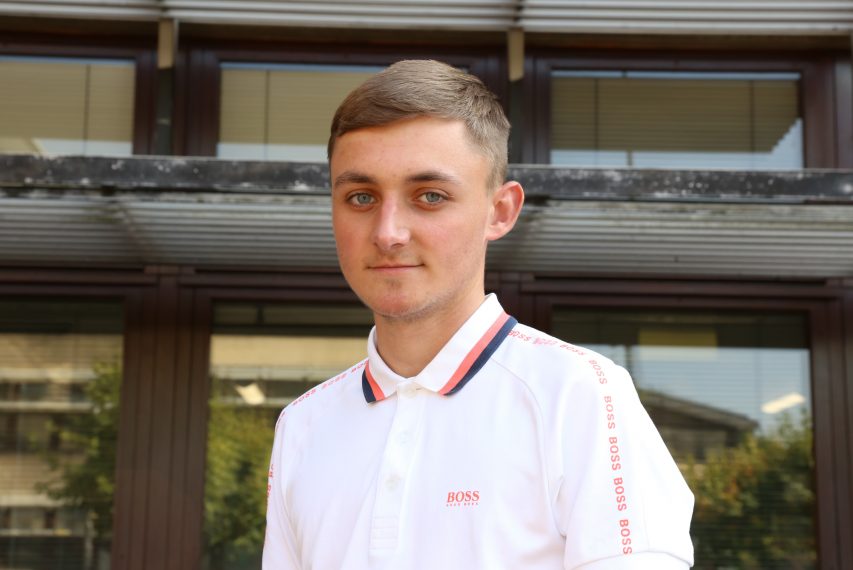 We have recently launched a campaign for Administration Team Members to join Sellafield Ltd. We sat down with Fraiser and Victoria to explore what a day in the life looks like in this team!
When did you join the team?
F: I Joined Sellafield Ltd in September 2020 through the Group Business Services Apprenticeship Scheme. When I complete my apprenticeship, I will gain a level 3 qualification in Business Administration and hopefully a full time role with GBS. My Current role is providing 4 senior managers (two Project Engineering Managers, Head of Delivery Lifecycles and Head of Procurement) with secretarial support under the new operating model.
V:I originally joined Sellafield through the business administration scheme in 2016 and did three placements in a variety of areas across site over the course of two years. After my three placements, I graduated from the scheme and was asked to come back to my second placement in Security & Resilience as a full employee. I have supported the area as a PA to all members of the lead team in that OU. Recently I have been moved into a more admin-focused role, looking after the central admin inbox to assist with queries on a more general site-wide level.
What does your job involve?
F: My Job involves providing diary and inbox management to my 4 customers as well as supporting their direct reports with diary management. I often liaise with external customers from companies such as Deloitte due to the senior roles of my customers. I also support them with hotel and travel bookings as well as the expenses when they return.
Depending on the customer you support, your job role can have a vast difference to another secretarial team member. For example, for the two project engineering managers I support, I regularly attend safety meetings to ensure work on a project is being done in the correct manner as well as cost saving meetings to make sure they stick to their budget for the financial year. Whereas, for the two commercial managers that I support, I learn about how the business interacts with external stakeholders and how this impacts our company.
V: My expertise lies in problem solving and IT, so my job is to solve any of the requests which come into the central admin inbox. Mainly this is IT requests, which can range from ordering new laptops for users to allowing our secretaries to access manager's inboxes as a delegate. I also manage access for shared drives and control room bookings for users via this inbox. My recent role has me supporting a Secretarial inbox as well with jobs like hotel, train, and flight bookings, managing expenses for managers, setting up meetings and completing typing requests.
I also support the GBS Lead Team with any ad-hoc requests; creating spreadsheets, instruction booklets, diagrams, etc., as well as acting as a general teacher for other members of our team who may need help learning a certain process or system. Every day is different and varied, and that's what I like about my job. I have the option to put my name forward and get involved with some of the other projects happening across GBS. It gives me a chance to learn more and broaden my horizons, and keeps every day interesting.
How did you get into your current job role?
F: I applied to the GBS Apprenticeship scheme whilst I was in my final year of college doing A-Levels. After finishing college and going through the first Covid- 19 lockdown, I started my apprenticeship in September which was then halted again by another lockdown in the December where we were required to work from home 5 days a week. A few more lockdowns later I have nearly come to the end of my apprenticeship which has been an amazing experience for me to meet many different people within the business including senior professionals who have helped me through my first two years at Sellafield Ltd.
I thought I would've enjoyed this apprenticeship due to my academic background in A-level Business, which has definitely been the case. I also pursued an apprenticeship rather than going to university as I wanted to earn whilst learning alongside nuclear professionals.
What do you enjoy most about your job?
V: As cheesy as it may sound, the most enjoyable thing about this job is honestly the people I work with. My line manager is really kind and caring and is always the first to offer me advice or assistance when I have a problem. Equally, the team I work with are lovely and make me look forward to the days I work from the office.
Prior to GBS being brought in, Sellafield had all admins and secretaries spread across the business and 'owned' by the individual areas they supported. My team specifically were passed around different managers akin to a hot potato, so having a single, reliable point of contact really has made all the difference for the communication and stability of my role – which, in turn, makes me feel comfortable and confident in my role.
What can this type of job lead on to?
F: This job role can lead to a wide variety of different paths to progress within the business through our Internal Vacancy Scheme. Many people have moved into a Project Controls or Project Support role from being in a secretarial team. Other team members have also gone on to further education such as a Business Management degree alongside their day job. The job is whatever you make it and the opportunities throughout the company are endless.
V: The most obvious answer is to work up to being a team leader, but you can also find yourself working in many different areas across GBS – you don't have to be a secretary, and there is the chance to move into Finance/NSBS, Document Control, or even other areas of the business entirely.
What advice would you give to somebody considering this role as a career?
V: Try not to tell a colleague or customer a flat-out 'no'; think back to all the times you have needed advice from someone who was in a similar role to this and hit a dead end because no-one was willing to help – it's one of the most frustrating issues to deal with on a day to day basis. We aren't expected to know everything or be psychic – it's okay to genuinely not know an answer. But if you don't have an answer it is always infinitely more helpful and makes you look more competent when you guide them to someone who may have the answer, or at least guide them to someone who may be able to further direct them to wherever they need to go.
Don't be afraid to ask for help from other members of your team as well. Perhaps they may have an answer or solution you didn't think of!