Quick Guide: Moving to Cumbria – Part 1 Accommodation
by Ross Gardner
April 9, 2018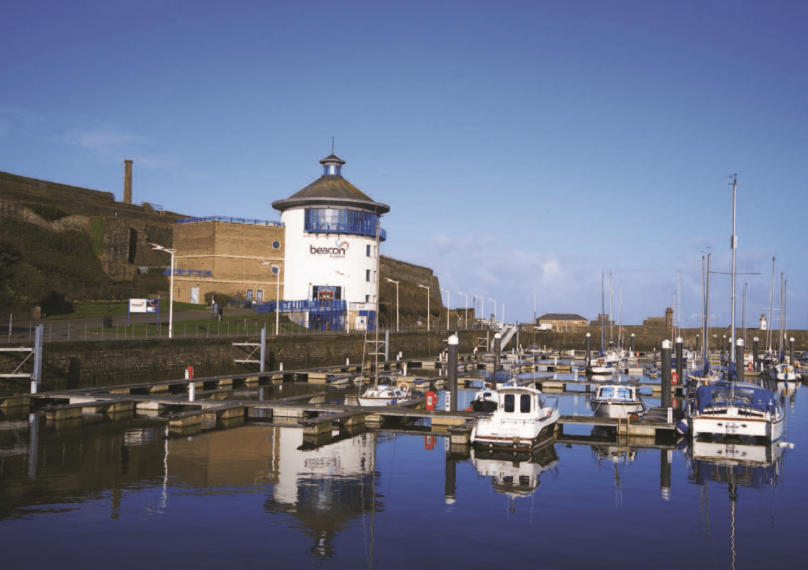 We recently completed our graduate and student campaigns for 2017, this means we have a number of new starters joining us in the next couple of months on either our Placement Scheme (Industrial or Summer) or our Graduate Scheme.
A large number of our students and graduates will be based in Cumbria, either on-site or at an office nearby, meaning the move to Cumbria is essential to be able to commute to work. In this mini-blog series (part 1 of 3) we will cover information on where to live and how to find accommodation.
Where to live
Summergrove Halls is located 5 minutes outside of Whitehaven and provides both catered and self-catered accommodation. The rooms are similar to first year university halls, with shared kitchens for around each 7 rooms. There are also gym facilities, a terrace bar and a small shop for necessities.
Previous new starters have stayed here while they get a feel for the different areas around Sellafield and find a more permanent residence.
Whitehaven
Whitehaven's relaxed atmosphere and sea views make it a comfortable place to live. It is the recommended place to stay as the majority of graduates and placement students choose to live here, making it the best spot to get involved with social events. The high street has enough shops for you to find most everyday necessities and there are several large supermarkets, most within walking distance of houses in Whitehaven.
St Bees
Located 4 miles from Whitehaven, St Bees is small coastal village within 20-30 minutes driving distance to Sellafield. There is a small station that links to the West Coast train line. The beach is a great place to visit on a sunny day, with famous Hartley's ice cream and coastal walks back to Whitehaven.
Seascale
Situated right on the coast very close to Sellafield, Seascale is ideal if you want a quick commute, with travelling time likely around 5 minutes by car or around 40 minutes if you walk. It's right next to the beach and has a convenience store as well greengrocer and a couple of take-aways. The closest major supermarket is in Whitehaven, around a 20 minute drive, although there is a smaller supermarket a little closer, in Egremont.
Egremont
Egremont is situated about 5 miles from Sellafield but can be around a 20 minute drive to site (with traffic) and is home to the remains of a small castle built in the early 11th century. The main street has a smaller supermarket as well as some pubs, shops and banks. The Falcon Club provides local gym facilities aswell as a number of squash courts.
Other areas
Aside from the above mentioned areas, some students and graduates also choose to live in:- Cleator Moor, Beckermet, Gosforth, Workington and Cockermouth.
Where to find accommodation
A good place to start would be to have a look at the local estate agents to see what is on offer and the average prices. If you're looking to rent, prices can vary in the above areas between £400pcm and around £800pcm depending on the property.
Some of the local estate agents are:
Alternatively you can visit RightMove – where most estate agents advertise their available properties to rent and buy. This will give you the full range of what's available in the area.
When visiting the area house hunting, you could also buy a copy of the Whitehaven News which will give a good idea of the housing available in the local area.
Living with other Graduates & Students
Our cohort of placement students normally start in late June, followed by our cohort of graduates in late September – Often students and graduates get in touch with each other before they start to arrange house/flat shares, one of the graduate recruitment team will contact you to see if you are interested in sharing your contact details with others on your scheme to allow for the conversations to begin.
Top 5 Renting Tips
Ensure that your deposit is placed in a government backed Tenancy Deposit Scheme (TDS) by your landlord.
When you begin your tenancy ensure the landlord provides you with a schedule of conditions/inventory relating to the property, this may be needed when it comes to claiming back your deposit.
Take photos of the initial condition of the property when you moved in, ensure a date stamp and time is applied to the photos. These may help you if you have any problems recovering your deposit.
Moving in with others – If you're planning on house/flat sharing with others you don't know very well, ensure you have met them properly beforehand and if possible ensure your individual room has a secure lock.
Furniture – If you're looking for furniture but don't have a large budget, check out local buy/sell pages on social media, or websites like GumTree, where you may be able to pick up a bargain!
Look out for part 2 of our moving to Cumbria blog next week.
If you have any queries or further questions, please get in touch with us on:- [email protected]